St. Timothy Conclave No. 65
Order of the Red Cross of Constantine


Welcome...
to St. Timothy Conclave No. 65
Fort Worth, Texas


Honorable Joe Orona
2017 Puissant Sovereign

Illustrious John A. Hughes our Intendent General
Division of Texas Northern
United Grand Imperial Council of the United States of America
---
Annual Meeting and Banquet
is on Saturday, April 29, 2017

CLICK HERE FOR ALL THE PICTURES OF THE 2016 ANNUAL MEETING AND BANQUET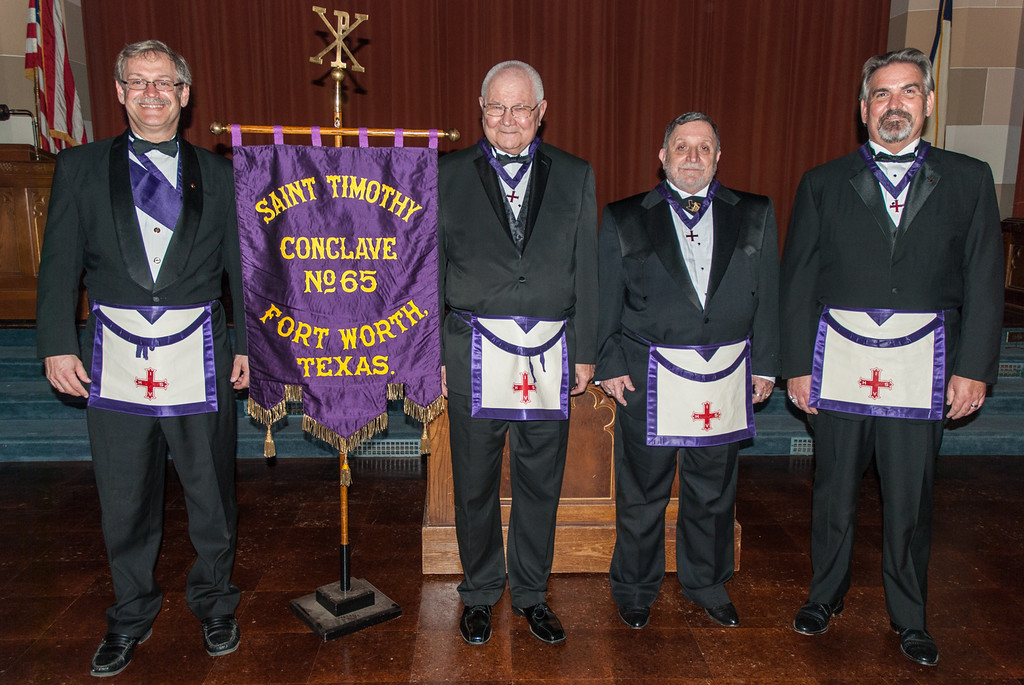 Pictured above, our Puissant Sovereign, James Kirkpatrick
With Wally Jones, Joseph Spencer and Gary Blair


Special Guest Speaker at the 2017 will be
Illustrious John A. Hughes our Intendent General
Division of Texas Northern
United Grand Imperial Council of the United States of America
---

Upcoming Meeting Schedule
---

Friday, April 28, 2017 at 6:30 pm, Practice of the Degrees at the Temple
Saturday, April 29, 2017 at 1:00 pm, Conferral of the Degrees at the Temple
Saturday, April 29, 2017 at 6:30 pm, Banquet
---
Don't miss the following features:
---

"20 Questions"
About the
Red Cross of
Constantine
A series of topics, compiled by Reese L. Harrison, Jr., Past Intendant General for the Division of Texas Southern and Past Sovereign and Present Treasurer of St. Anthony Conclave No. 50, which outline the origin, history, legend, degrees and structure of the Order of the Red Cross of Constantine as requested by Sul Ross Masonic Lodge No. 1300 in College Station, TX, for a program presentation on November 16, 2000.

Further Thanks and credit to James Rodriguez for original content he placed on the St. Anthony Conclave #50 website. (link at the bottom of this page)

---

History of St. Timothy Conclave
A complete listing of our Past Sovereigns of St. Timothy Conclave No. 65 since its Institution is now available.
CLICK HERE


---
Questions/Comments about this site
should be directed to:
James Kirkpatrick (jkirkpatrick438@earthlink.net)
Many thanks to
James Rodriguez (admin@albertpikedemolay.org)
He designed the web site for St. Anthony Conclave
Much of the content for this site, and information links come from James R.
Click here for the link to St. Anthony Conclave No. 50